"Our Lord in the Blessed Sacrament should be known, loved and adored by all, always and everywhere"-this vision of our Founder Venerable Mar Thomas Kurialacherry has inspired the SABS to cross the boundaries of Kerala and of India and to reach all over the country and abroad. Our sisters work in Europe Africa and America. We have a perpetual adoration centre at Khajooria in the Diocese of Sagar, M P.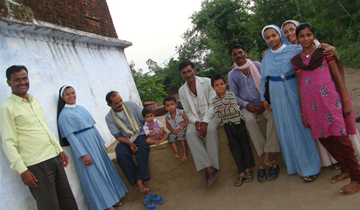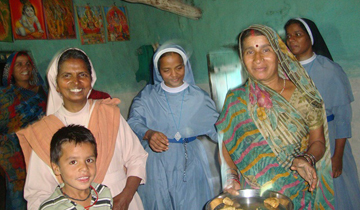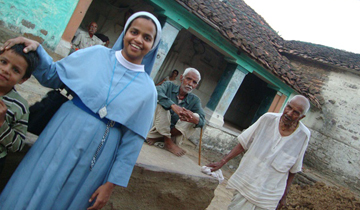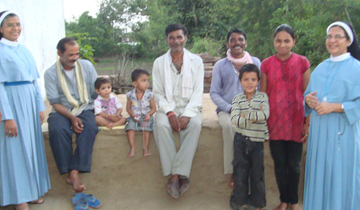 Evangelization via Philately
Sr.Florentine has collected postal stamps depicting the Holy Bible from the Creation to Revelation and exhibited it at several occasions in the length and breadth of Kerala. She has collected more than 3000 rosaries of various types together with variety of pictures of Mother Mary from all over the world and has conducted exhibitions at different parts of the country.
---
Ministry among the Migrants
The CRI unit in the Arch Diocese of Thrissur has taken up the cause of migrants in the district of Thrissur, especially of Hindi speaking people. In collaboration with the CRI two of our sisters Sr. Cyrilla & Sr. Lis Therese have engaged in this ministry. On the second and fourth Sundays of every month Holy Mass for the migrants is arranged in Hindi in the Latin Rite at Jerusalem Retreat Centre, Thalore. On the first & Third Sundays the migrants assemble in Sacred Heart Latin Church Thrissur for Holy Mass. Around 2 to 3 hundred people attend the Divine Liturgy. The number is slowly increasing. They recite the basic prayers of the Church, before the Holy Mass.
The CRI under the leadership of the president, Rev. Fr. Thomas Walter Thelappilly CMI is trying to get working permit for them. A medical Camp has been arranged for them together with free treatment in Jubilee Mission Medical college & Amala Medical College. A Retreat has been arranged for them at Gagultha Retreat Centre Thrissur. Facility for individual & Family Counselling is provided by a team of Sisters.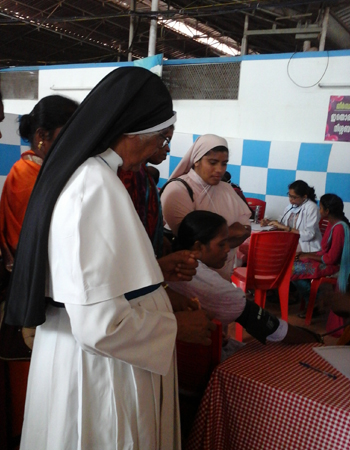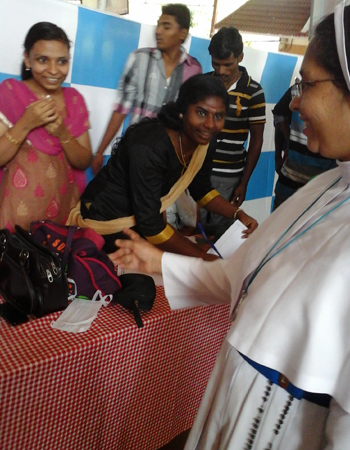 ---
Information Centre
1986 onwards one of our sisters is in-charge of the Palayoor pilgrim centre, the Church founded by the St. Thomas the Apostle himself. This centre serves as an evangelization corner distributing pious articles, the Bible and other religious books.
Service at Thrissur Metropolitan Tribunal
2005 onwards Sr. Alphonsa Moonjely serves in the Tribunal as the Defender of Bond and for the last seven years as the Metropolitan Tribunal Judge. This is another field of re- evangelization.
Logos quiz
Every year a good number of our sisters participate in the Logos Quiz and secure ranks. In connection with the 'Consecrated Year 2015'Sr.Geo Therese Panamkulam secured First Rank in the Logos Quiz conducted for the religious and won the free ticket for the pilgrimage to the Holy Land.